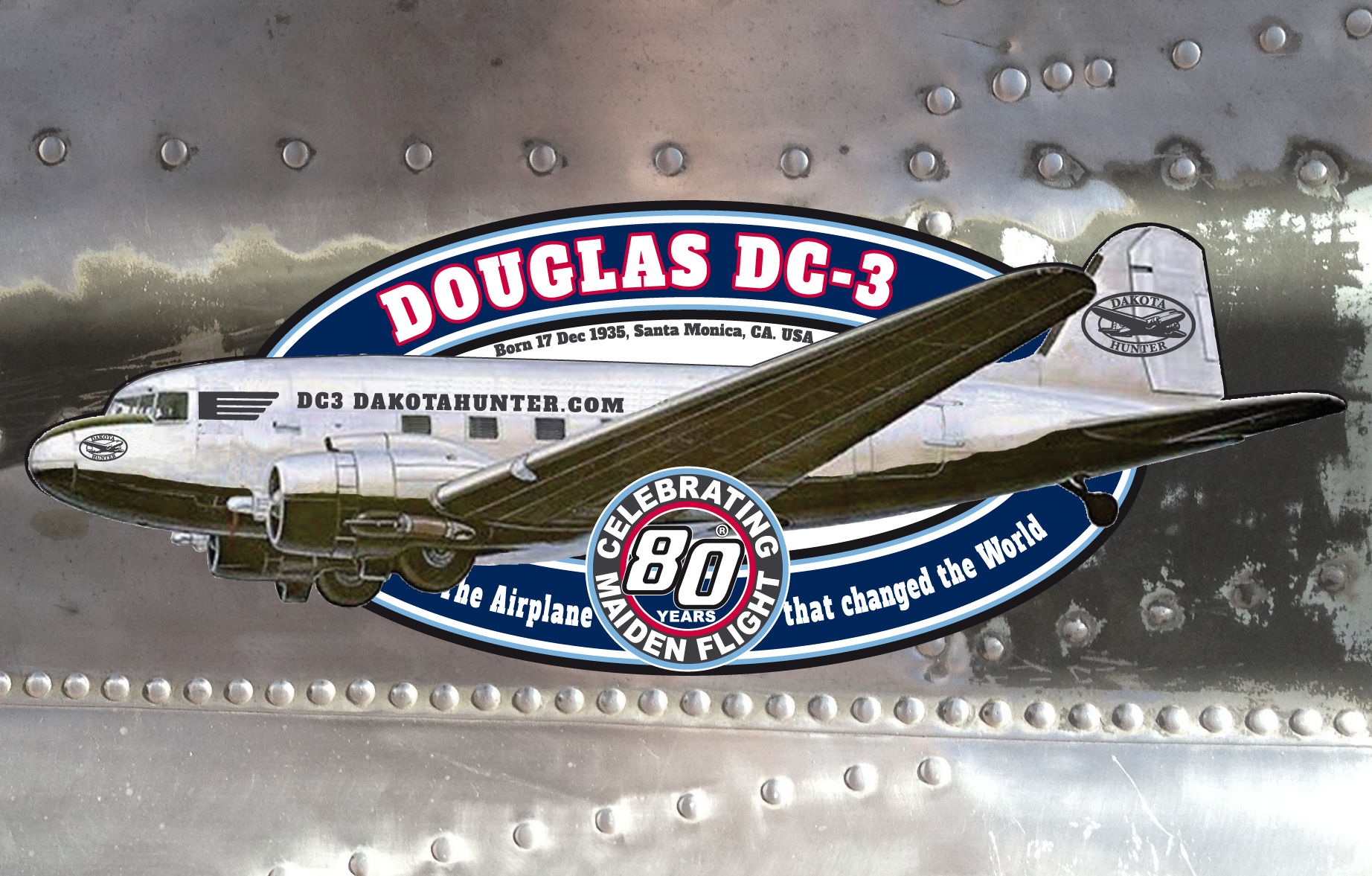 On the 80th Anniversary of the DC-3, 12 signed copies of the book "The DAKOTA HUNTER" will be given away by WAR HISTORY ONLINE  Magazine in a random draw, a joint promotion with book publisher Casemate USA/ UK. Read more about the DC-3 below, and how to participate .
Photo above: the author Hans Wiesman on the Villavicencio airport ramp, Colombia, watching a DC-3 , arriving from the Amazon Jungle.
Read here what WAR HISTORY ONLINE announced about this DC-3 related Celebration:
The official 80th Commemoration of the Douglas DC-3's maiden flight will take place on December 17th, 2015. This iconic aircraft would go on to become one of the most outstanding designs in aviation history, essential during both peacetime and wartime in the 20th century and beyond, and often dubbed "The Transport that Changed the World."
We would like to share this celebration with you, so we are giving away 12 signed copies of an amazing, fully illustrated and engagingly written book. We could not find a more appropriate title to give away for this occasion than this recently issued work about the lost and last Dakota DC-3's/C-47's of this world, titled: "THE DAKOTA HUNTER: In Search of the Legendary DC-3 on the Last Frontiers."
We have found the author, Hans Wiesman, and his publisher, Casemate USA/UK, willing to supply 12 signed copies of this book, with each copy carrying an inlay hand-signed by the author!
Click HERE to enter and read the book review!  Please hurry as this giveaway ends December 11th 2015 at midnight, so you can read the book soonest or use it as the perfect Christmas present!
Good Luck and enjoy, War History Online.
Photo above was taken in Normandy, 6th of June, 2014 by Onno Wieringa. On Cherbourg Airport, Hans came with his lifetime Harley friends Fritz & Bally to view the 10 C-47's/ Dakota's parked out there on behalf of the 70 Years D-Day Commemoration flights and para droppings from this legendary Aircraft.   The Flat Head  WL 45 / 750 cc Harley (in original post war paint) is  a contemporary US Army transport and perfect match with the WWII built aircraft .
Hans Wiesman, author of the book "The Dakota Hunter"has a lifetime love affair with both the Douglas DC-3/Dakota and the Harley Davidson Motorcycle.  He met both Iconic WWII Transports while living as a young kid in both the West and East Indies in the first twelve years of his life. The passion never faded, instead grew stronger over the years. Dakota Hunting became an intriguing part of his eventful life with exciting new plans for 2016 to explore the "last and lost Dakotas of this world" for salvaging parts and air frames or simply documenting/reporting about their final whereabouts/ tombs, as to keep them alive for posterity.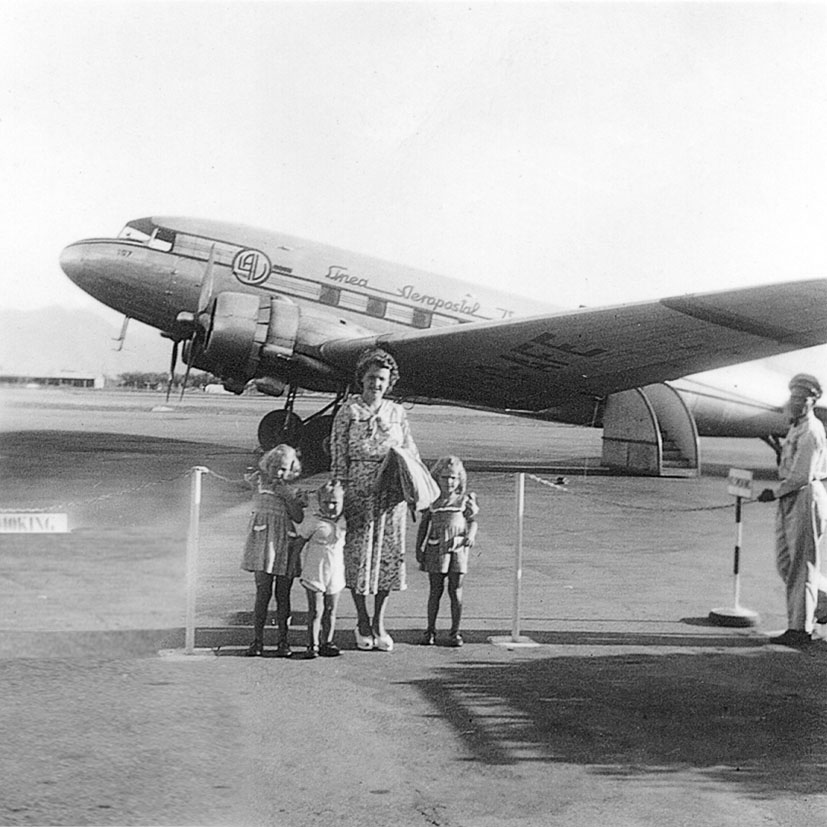 Photo above was taken in Trinidad, 1949. Hans as a toddler with his Mom and sisters Corine and Rita on Trinidad Airport, ready to board a Linea Aeropostal Venezolano DC-3 to Curacao. It was there that he made his first DC-3 flights between 1948-1950, and soon, there was a lot more adventure to follow.
Hans' Dad, a Shell oil-exploring engineer, took his family in 1950 to Borneo, a huge island in the Indonesian Archipelago, where all oil installations were devastated by the Japanese Army and USAAF air raids by the end of WWII, 5 years earlier. Hans' passion for the legendary aircraft started there: in a near fatal accident on a swing, he got a skull fracture in a remote jungle settlement with no X-ray equipped hospital. A Dakota was used as a "Medevac" to fly the badly wounded young boy to the larger city of Balikpapan for an X-ray examination and operation. A week or so later, with a huge white turban around his head, he refused to say "thank you" to the Doctor, blaming him for the terrible headache caused by the incident, not by the operation. But in his blurred view after that brain-shaking accident, only that Dakota had become the Hero for him, his real Savior!
Photo above was taken April 2015 on San Juan Int Airport Luis Munoz Marin, Puerto Ric0, while working on the derelict air frames to cut off their cockpits. There was no way to find a funding to save the fate of all 5 air frames, even with a "for free" offer, as the transport expenses to USA or Europe are prohibitive.
The sweet memories of those epic Borneo DC-3 flights in 1950's came back to life, as Hans had a new encounter with the Dakota in 1986 in Guadeloupe. In his job as a Sponsor/ Promotions Director, he was in charge of the organisation of a Pro World Cup Surf Event in the Caribbean, no bad job at all! All 100 Pro Surfers had arrived in time by regular flights but their bulky boards where bumped and left behind on the Dominican Island. A local helper organized a cargo flight from Puerto Rico to bring in the surf boards, right in time for the start of the event. Eagerly waiting on the airport in a truck and anticipating a vintage Cargo Jet liner, Hans suddenly stood as perplexed on the ramp, as an even more vintage Dakota came taxiing in, with all missing surf gear on board. That much welcomed aircraft with its "Four Star" livery on the fuselage evidently gave rise to some warm feelings, sort of second time in his life that a Dakota brought relief!
That was the spark for a new mission in his life, the quest for the lost &  last of the flying, crashed or abandoned Dakotas started from there. By sheer coincidence, after almost 30 years of hunting Dakota's since Guadeloupe, Hans ran again into that same Four Star C-47  (N131FS) in April 2015.  This time, it was all Doom´s Day on the San Juan Int. Airport. Hans was invited by an American collector to help with a plan to save the last cockpits of the defunct Four Star fleet. They were standing there in total dereliction on the ramp since more than 5 years, completely stripped to the bone, as empty clam shells. Only two cockpits could be saved, all the rest that you see on this bone yard-like scene was scrapped in a mass destruction of War Relics and recycled into soda or beer cans, cheers!
But two of the once legendary fleet of the "San Juan Cargo Air Force" (12+ C-47's from 4 operators in its heydays) escaped the cutting torch. One C-47 (with Snoopy nose-art, Reg nr N138FS) was earlier flown out to USA , while the other one (seen on the photo above standing in the backdrop Reg nr. N131FS), was about to be ferried to USA for survival under a new owner.
Photo above was made Sept. 15th, 2013 on NAS Valkenburg in The Netherlands. A derelict C-47 that was crushed in a road transport accident and later bought by Hans for salvaging the cockpit. That nose section is now under reconstruction to become the world's first certified DC-3 Pro Flight Simulator that will be used for training/ licensing of DC-3 pilots. This Flight Sim will save tons of gas & wear and tear of precious metal, with up to 50 % less flight hours needed for training in operational DC-3's! 
NOTE : the fuselage skin left over after the  Flight Sim cockpit was separated from this donor 1944 Oklahoma built C-47 (see photo above), will be used for the making of a Limited Series Commemorative Plaque in the sizes 40 x 28 cm/ 16 x 11 inches, ready for your own choice framing in 60 x 90 cm/ 24 x 36 inches. The recovered C-47 skin panel with full rivet lines, brushed to bare metal will be ink screened with the "DC-3's 80 Years Maiden flight" Logo. A true piece of a War Relic,  for display at home or office in Double Framing with photo of the donor C-47 on top. Evidently, single plaque framing as shown is an option. Plaque and Photo can optionally be signed by the artist Hans Wiesman. Full options with different photos and documentation of this Donor C-47 will come to you with the Brochure request,  and a "Certificate of Authenticity" will be supplied with every Commemorative tablet.
The 80 Years logo will soon also be produced as a 10 inch/ 25 cm wide Sticker and as an embroidered Patch ( 5 in, 13 cm) for on your (flight) jacket or overall and as a Baseball Cap with the embroidered .badge . Soon more news and prices to follow.
If interested in such recovered C-47 Skin Tablet with logo printed, Sticker. Cap or embroidered Badge, you can request the free online brochure by sending your email address 

 
Photo of the Commemorative Plaques, in single or double framing; for enlargement, please scroll down to final photo of this blog.
In his illustrated book The Dakota Hunter (320 pages, 250 photos, many never published before), Hans describes his fortunes and mishaps in the chase for both the military C-47 and the civilian DC-3. He takes the reader by the hand all over the Globe on his expeditions to Alaska, the Yukon, the Caribbean, Venezuela, Honduras, Thailand, Madagascar and the South American countries Brazil, Bolivia and finally Colombia. It is there that he encounters the 70 years old C-47 in its final and most lethal Military role ever, as a night prowler with sideways firing machine gun and rapid fire cannon. This AC-47 T has the rightful name "Fantasma" (Spooky), referring to the name and reputation of the AC-47's (aka "Puff the Magic Dragon" or "Spooky") that flew in Vietnam between 1964-1969 in the close air support role against the Viet Cong. On the Colombian Fantasmas , more powerful Turbo engines replace the good old R-1830 Radials, Hi Tech Search electronics as Infra Red cameras are mounted for their role as "Bats out of Hell". Those flying weapons platforms are a major reason for the annihilation of FARC's guerilla force over the past years. The war weary rural population is requested to stay in their jungle settlements at night, as after 11.00 PM the Fantasmas start their nocturnal man hunt, while soaring over the pitch dark Green Hell. Every single human silhouette picked up by the Infra Red camera outside the hamlets is targeted and shot, no questions asked! Read more details and see more photos of those `mopping up Colombian Style`operations in the book The Dakota Hunter.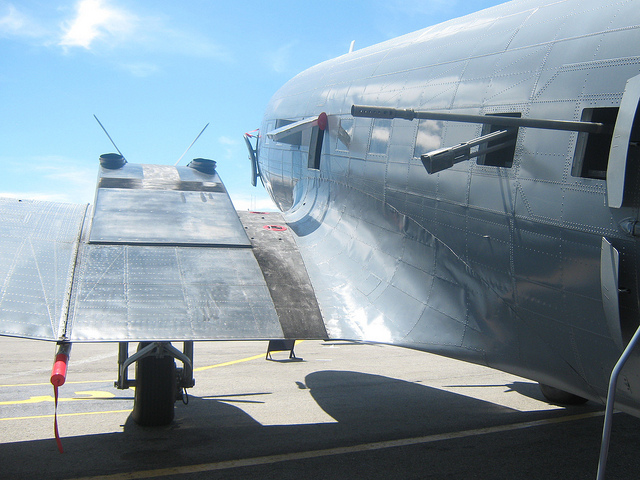 Photo above depicts the Colombian AC-47 T Fantasma, with the Turbo Prop engines, Infra Red Camera and the rapid firing rotating barrels of the Machine Gun and a long barrel cannon,  operated and aimed by the Pilot's goggles coupled to the FLIR camera. Those organ pipes can inflict serious trouble with an ammo Hailstorm, pumped out in an inverted cone shaped Tornado of fire.  As the Gunship is homing in and starts rolling over to aim, it enters an orbiting circuit overhead. The engine's rumble over the Jungle is a sign for most guerrillas in the camp below that their final hour is imminent!
With all modern amenities, the air frames of the Fantasma remain that of a 70 year old C-47, which participated in WWII and later also survived the Korean conflict and the Vietnam War. Three times a Veteran, as a Utility/ Cargo Plane C-47, and finally as a pensionado, flying combat/ killer missions at night as Attack Cargo AC-47 T:  is there any other aircraft in the world that can boast such outstanding and extended military career?
For more of such intriguing tales of both the Military and Civilian Dakotas, you should read that engagingly written book The Dakota Hunter. It is a tribute to that Iconic Aircraft DC-3 and all of its derived Military versions as the C-47 Skytrain, C-53 Skytrooper , R4D etc.
If you would like to have a sneak preview into 6 pages of the book, or see more photos? Come to the dc3dakotahunter.com website
For a direct ordering of the book at Amazon, you can click here for the reviews and book to order. If you scroll down this Amazon order page , you will see the 5-star reviews published by earlier buyers of this outstanding book!