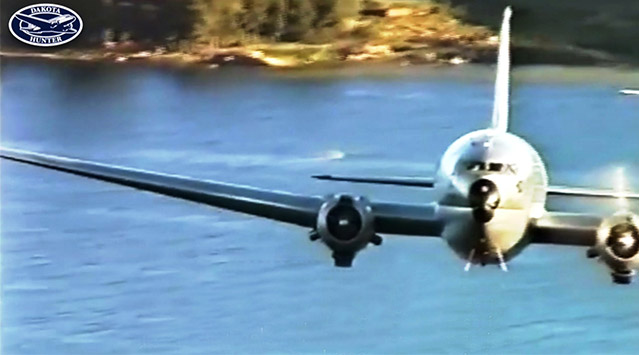 In this Dakota Hunter Blog, you will hear the roaring sound  of a couple of Radial Piston engines R-2800's and see impressive footage of an ultra low fly pass of a Curtiss Commando C-46. The video was made during a film/photo session at the shores of Lake Titicaca, Bolivia. At an alt. of 3600 m. This huge lake is the highest navigable lake in the world. Since the 13th Century, it was the religious center of the Inca Empire, that stretched from Central Chile all the way up to Southern Colombia, and included Peru, Ecuador and large parts of nowadays Argentine and Bolivia. The Lake houses the Island of the Moon and the Island of the Sun. The Temple on the Island of the Sun became known to me in the 1960's as I was reading as a young kid the album of the Belgian strip hero Tintin, titled "The Temple of the Sun". Gifted with  a rich fantasy and a thirst for discovering the world, I always felt the urge to go there and see if it all existed in reality. It was during my hunts to find the derelict  C-47 Dakota and other Vintage Aircraft for Museums and Collectors, that I came to Wonderland Bolivia quite a number of times between 2000 and 2010. For many reasons, this is one of the truly amazing and most beautiful countries that I met in all my life's travels.
Photo above: (courtesy Micheal Prophet), is made on El Alto Airport, the highest International Aiport in the World at some 13.000 feet/ 4100 m. alt.  It is located in the Andes Alti Plano (High Plains) near the Capital La Paz. The newer side of the Airport houses modern buildings and Jet Airliners that fly in from all over the World. But there is still that sinister darker side of the same Airport, with the ruins of the old terminal building and workshops/sheds, surrounded by wrecked or burnt aircraft. Mostly C-46's and a number of DC-3's. Dc-4's. They seemed all derelict but as I came there, a small number of Curtiss Commandos C-46 and a Convair Model 340 was still operational. It was a very weird view of a messy and chaotic Boneyard from which certain dilapidated aircraft managed to start their engines and surprisingly, make an escape for a flight. Only to return later that day for spending another cold night with  the mummified bodies and ghosts of their congeners.
Photo above; My first encounter with the weird Mad Max style Airport of El Alto took place way back in 1994, as we made The Catalina Odyssey around America, with this Catalina PBY-5A. It was owned by Plane Sailing from Cambridge, UK and flown by the owner Paul Warren Wilson during our "Flight of  a Lifetime". We arrived from Rio de Janeiro for the continuation of our tour to Lima, Peru. But with that stopover in La Paz, I decided that we had the time to make the next day a water landing on Lake Titicaca for a superb footage on behalf of our TV program. Captain Paul was very reluctant as he had no good feelings about that Sacred Lake. I pushed hard to do it but an invisible microburst over the lake pushed much harder. The downdraft that we entered just before touch down on the water, slammed us really hard against the lake's surface. The beautiful WW II built Catalina took the pounding but stayed intact while Paul was pushing Full Throttles to get us out of this "Pool of Doom". With screaming engines, the Cat climbed out from under that "Hand of the Mountain Gods", as the local Shaman explained the near fatal accident. For more information and photos of that tour and accident, see below "How to order the Book".
Photo above: (Courtesy Ron Mak), The 2 last of the B-17 Flying Fortresses in commercial operations flew here in Bolivia as Meat wagons from El Alto to the Beni into the Jungle of the North for the Company Frigorifico Reyes, which I visited once. Nose cone opened and all chunks of beef were 'swallowed' until the fuselage's former bomb bays were jam packed with freshly slaughtered cattle. All meat was still dripping blood that was collected in a central gutter  with an outlet at the tail of each plane. At take-off from the Rancho meadows strip, you could see a trail of blood running from the external drain pipe
Photo above; (Courtesy Michael Prophet/ Ron Mak) A Curtiss Commando being prepared for a combined Passenger/ Cargo flight to Santa Ana. This was a domestic flight operation "for locals only". My film crew refused to step on board, after having seen the very primitive conditions of engine and aircraft maintenance. The sloppy outlook  may have prevented them to fly, but as the captain invited me to step on board, I eagerly accepted to sit in the cockpit with him. I did not realize that the dude had a perverse tendency to impress me with insane flight maneuvers that scared the shit out me and almost killed us both.
Photo above:  (photo Hans Wiesman) El Alto, the dark side of that airport had sometimes  the looks as if an air raid had just taken place. This DC-4 was being refurbished and about to make its first flight since years. With the start of an overprimed engine nr.2 , a flame licked from the exhaust pipe and with some residual fuel inside, a small fire started. Nothing special, but the fire extinguisher at hand turned out to be empty. The Airport Fire Brigade was called for help, but hey, this was in Bolivia, so by the time the first cars arrived, the aircraft was burning amidships and broke its spine. Finally, as the fire was extinguished, the beautiful DC-4 was a total loss. We all stood there, watching the flames running out of control, many screaming and running around in panic while we could do nothing than only wait for the Fire Brigade that came in late.
During one of my trips,  I was as a creative director responsible for the production of films/ photos for an advertising theme. For that purpose, I had hired the Curtiss Commando CP-1319 of my "Kamikaze Friend" Captain Antonio for some show flights around the Lake Titicaca. In my earlier exploits with him, he nearly crashed the big airplane twice with me sitting next to him by a sudden attack of his madness to impress me. With all those previous experiences, you will understand that this time, I was glad to be on the ground and not in the cockpit. As he started his show flights over the lake, he saw me standing there on the mountain side while I filmed his antics and again, he got that unnerving obsession to impress me.
With that big torpedo shaped airborne monster, he was homing in on me and coming closer and lower with every fly pass he made. In the last run, he came in so low and fast that we all tumbled backward, as we deemed an imminent crash into the hill unavoidable. Actually, at full throttles, he really pulled the nose sharply up before our bewildered eyes, pulling 5G or so on that 50 years old airframe! Imagine, just for the f….  show off.  Again, he must have smiled, seeing that bunch of 'Weenies' wetting their pants and panicking and running away over the steep hillside.  In his view, a real man's place was in the cockpit, his domain to show off in Macho style. It was to become his fate, the end came in that fatal aircraft crash, of which you see photos in the amazing video that you'll find below. My Bolivian dream of flying around in those 'primitive' WW II built aircraft was over. El Condor no pasa mas. Vaya con Dios, amigos.
If you are interested in more details of this story, may I recommend you my book The Dakota Hunter. Engagingly written and fully illustrated with 250 photos, I describe my expeditions over the Globe in search of the DC-3 and other vintage aircraft "on the last frontiers". Authentic stories of my encounters with rare aircraft, but also with the pilots and operators. Last but not least, with the Military, playing a dominant role in almost everything I did with the salvage of aircraft in Third World nations. Mostly friendly and respectful, but always with a keen eye on how much was in for them in the dealings. Sometimes, things turned nasty as Drugs and War Lords became involved. The book was selected "Book of the Month" by the Leading US Magazine "Air Classics". Read this review.
For more reviews, photos, and my blogs, please click here to enter my website dc3dakotahunter.com. You can order the book at all fine bookstores and online book selling sites. Publisher Casemate USA/ UK ISBN 978-1-61200-258-3, or go to Amazon: click here for 5 Reviews and Order of my book directly at Amazon