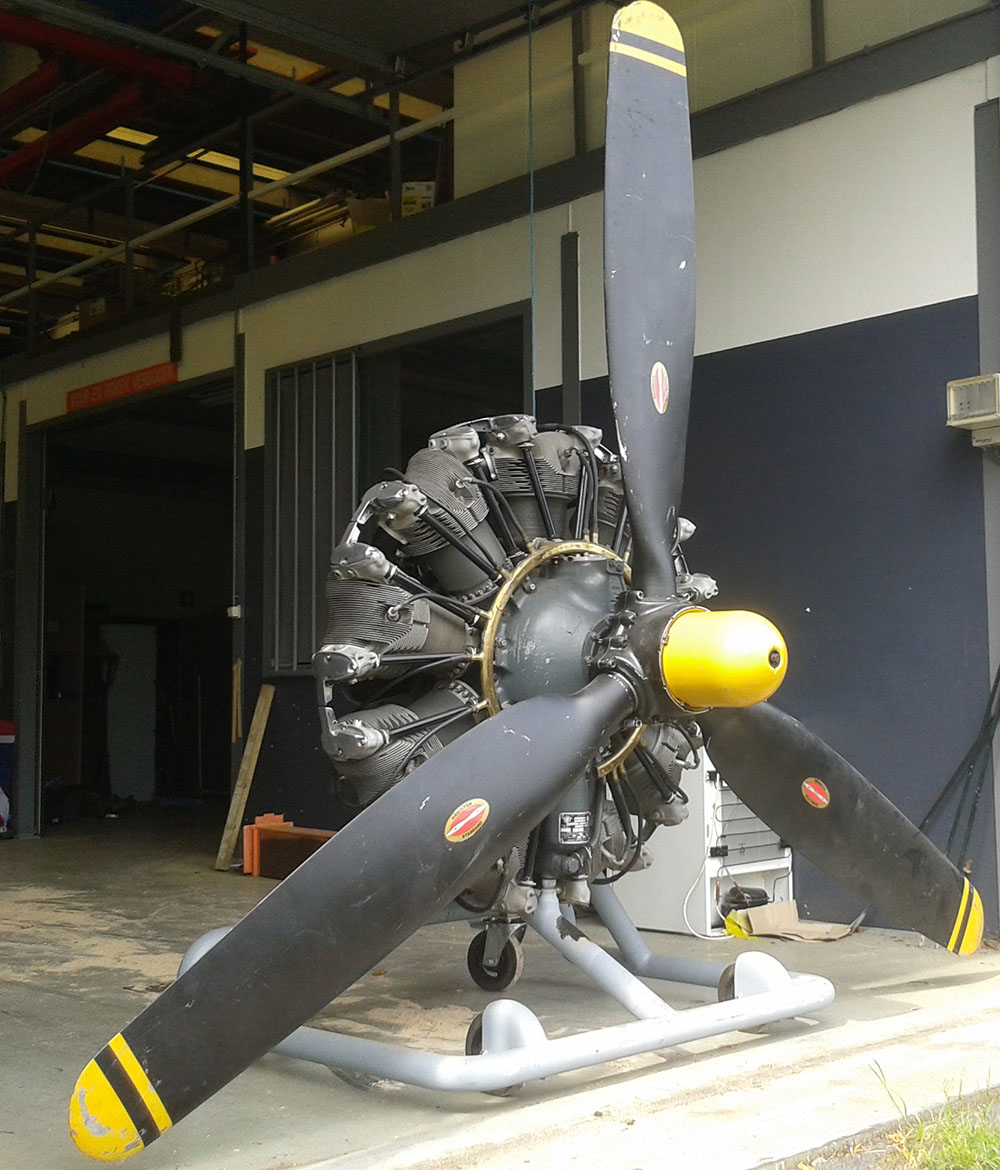 Photo 3
This aero engine is the legendary Wright Cyclone R-1820 , 9 Cylinder Radial with a single cylinder row and Hamilton Standard Propeller.
I recently sold this impressive machine to a Clothing Company in Holland, they use it as a relevant show display for the promotion of their brand theme on trade and consumer fairs.
This engine was installed on the DC-3 in the early pre-war series of the type. Later replaced by the P & W R-1830 but the Super DC-3, introduced in 1949,had that type R-1820 again but in a more powerful version. This engine was used also in the B-17 Flying Fortress and many other war time built aircraft and even a type of the Sherman Tank had this radial engine with an air duct cooling system for the 9 cylinders "under the hood".
In a further development of the Cyclone Single row, there arrived a double row 18 cylinder R-3350 Duplex Cyclone, being one of the most powerful radial engines produced in USA.
It was supercharged and cranked out from 2,200 to 3,700 HP in its final versions. They were first used during the war in the B-29 SuperFortress and after the war they matured to a Turbo Compound version, used in the Lockheed L-1049 Super Constellations and Douglas DC-7's.
This version marked the end of the line for the huge piston prop engines, Jet Age had made its entry into the civil aviation market by the late 1950's with the arrival of the B-707 and the DC-8,
It was the end of an era but the Russians built the Shvetsov M-25, based on the Wright Cyclone in over 40,000 pieces and the Chinese also have built huge numbers. According to some sources, they were until recently (2007) still in production in Poland as the ASz-62. The production started in 1937, with the last one built in 2007, that is an impressive life cycle of 70 years!