WILL THE DOUGLAS C-47/DAKOTA FOREVER FLY OT SOON DIE?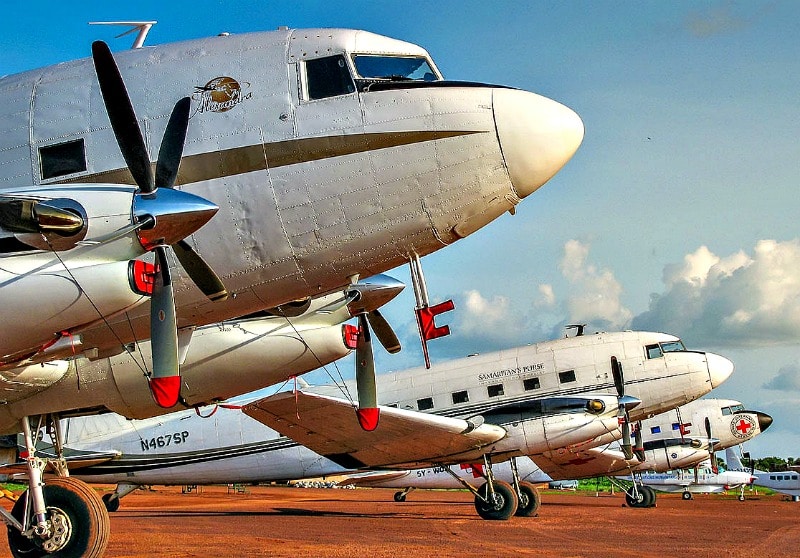 Feature photo nr.1
Could the new "Preferred Turbine-3" carry the Douglas  DC-3 legacy to its 100th anniversary?
Winter in America is cold, and out there in that winter wonderland, on 30 January 2018, I rode out to a small town named Kidron, somewhere in between Akron and Cleveland in the state of Ohio.
I was looking for a remote farm-road with a private airstrip. Hard to believe, but this is the place where they are remanufacturing old DC-3/ C-47 airframes into new DC-3 Turbo-Props, in series production!  I counted 12 DC-3/ C-47 airframes on the Preferred Airparts premises, in an odd mix of original airframes and extended fuselages that had already Turbo-Prop engines mounted before they came in here.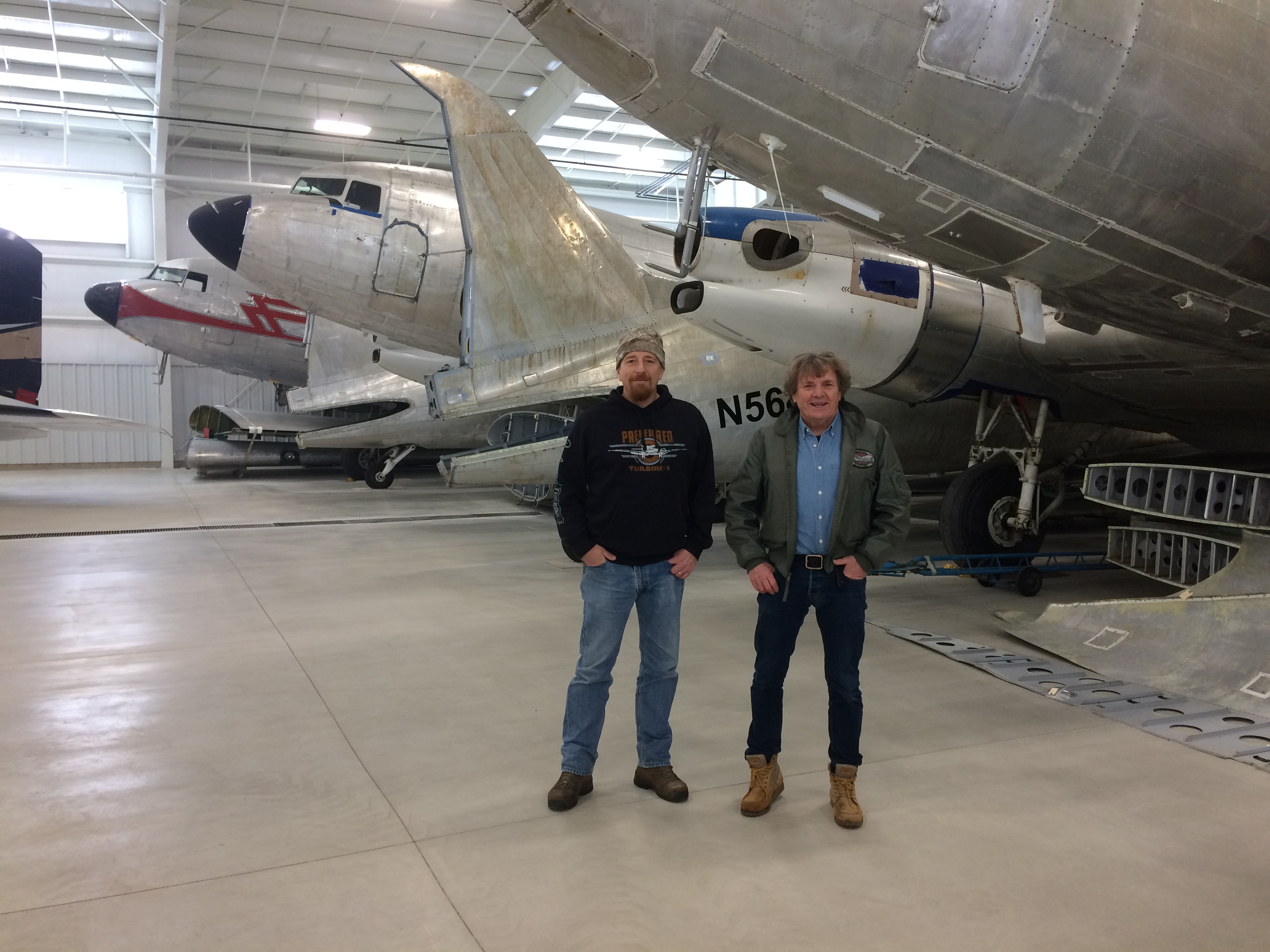 The photo nr 2: "Preferred Airparts, LLC" is the name of the company, and their President Brian Stoltzfus (at left) was so kind as to show me around. In their hangars, on their private airstrip. And their new projects on that cold winter day with snow-covered fields all around us.
More than 25 years ago, I visited the other existing DC-3 Turbo-Conversion company, Basler's, in Oshkosh for purchasing their surplus Dakota parts. Ever since, I have been around in the world of the DC-3 and have met that legendary aircraft in all shapes between crashed wrecks, abandoned airframes lost in total decay or corrosion, dereliction, and full serviceability.
Visiting the Preferred Air parts hangars in Ohio with the ongoing works on engines and reskinning of wings and airframes was a more recent and an awesome experience for me. With all that vintage flying metal in the background, I'll never have a dull day.
I have seen factories or hangars where they renovate or rather remanufacture the old Gooney Bird, in Oregon (with Paul Bazely's AeroMetal), in Virginia (with Robert Randazzo).
And in my own country, in Lelystad, the Dutch Dakota Association (DDA does a similar job on their passengers-flying Dakota PH-PBA.  But also in El Alto, La Paz, Bolivia, and in Villavicencio, Colombia: there they did total overhauls of engines and complete reskinning jobs.
Visiting all those places over the world, I loved every one of them.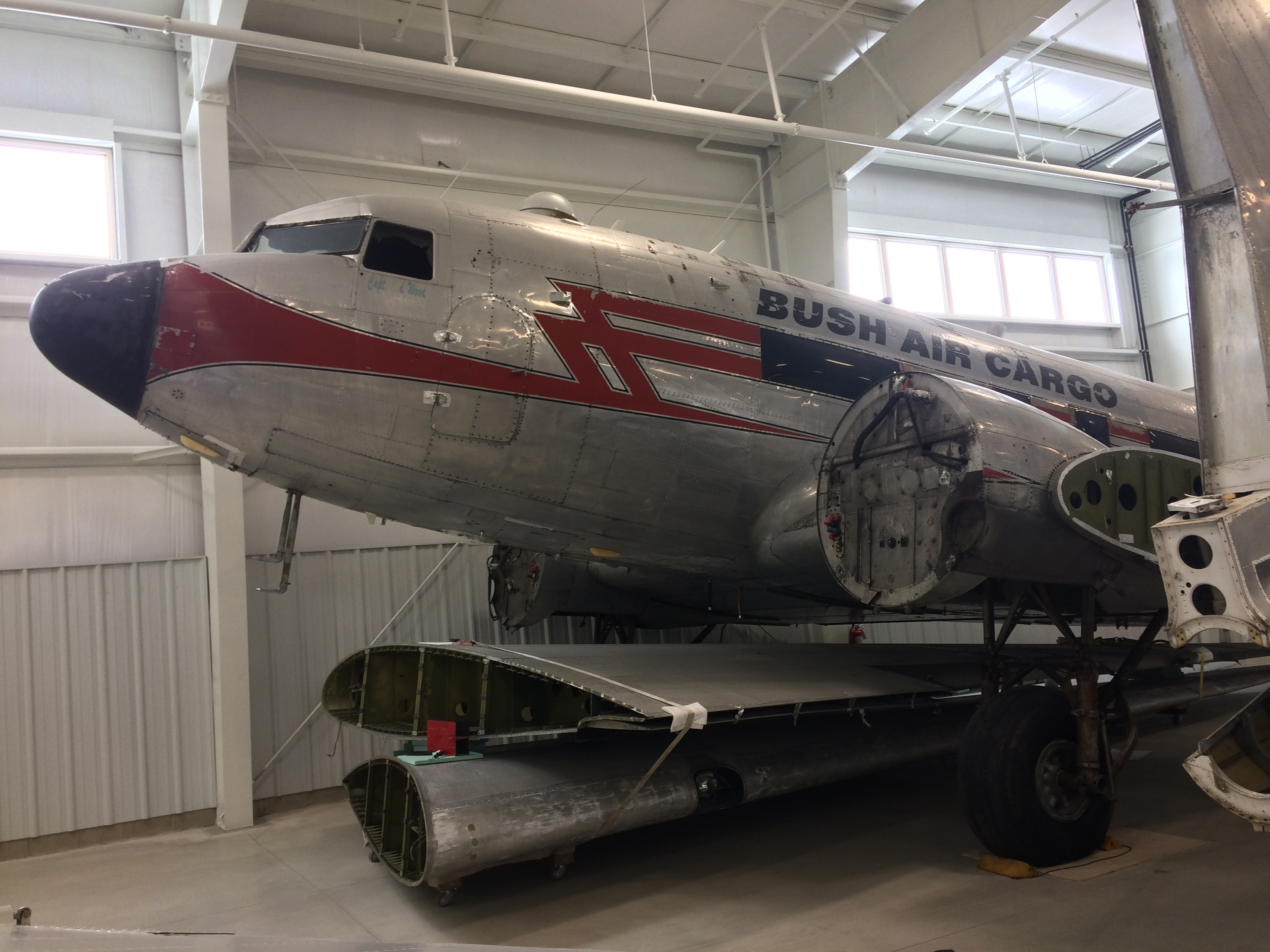 The photo nr. 3: Beautifully decorated DC-3 of Alaskan Bush Air Cargo. Ready for conversion,  this 75-year old transport awaits its turn for extending its commercial operations with yet another 25+ years lease of life.
That is what virtually happens out there now in Kidron, OH. I witnessed the total remaking of the oldest commercially operated transport in the World, preparing her to fly and work until 2044 and beyond.
Mishaps excluded, but if she makes it until or beyond that year, this icon of WWII origin will come to a respectable 100 years-of-age while still earning revenues for the owner!
 A century-old airborne transport still at work? Not like an oddball steam-locomotive or an exotic museum-supported aircraft that is maintained to be primarily an Airshow-Star.
But in Oshkosh and Kidron, they talk about vintage DC-3 aircraft, refurbished to surviving in numbers over a century, FAA-certified for commercial use, is that viable?
Let it be very clear; there is no boat, train, car, truck, or plane in the world that can come close to this achievement. If ever it will happen, the venerable C-47/ DC-3 will be most likely the first one in history to do so. being the World's only age-old commercial transport.
This aircraft has a reputed ruggedness and longevity like no other machine in the world that made people moving faster and farther during (almost) a century.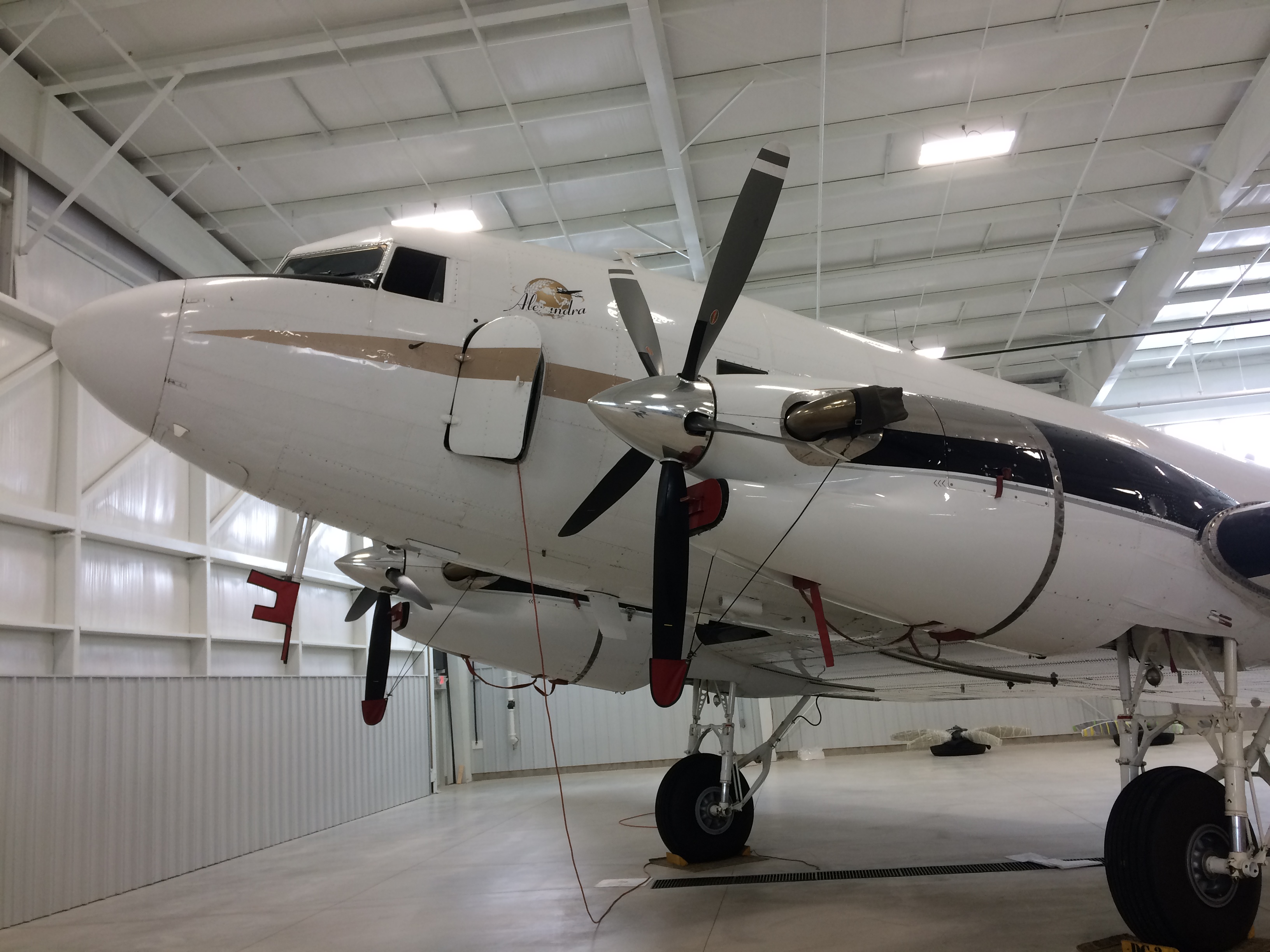 Photo nr. 4: To prepare a flying time-machine to keep her airworthy beyond the year 2044, it takes some serious effort to make this happen. You cannot expect that the original radial engines, avionics, and electrical/ hydraulic systems can survive in an ongoing 'war of attrition.' They become simply less reliable and more expensive to keep them operational.
We all would love to see the original DC-3 with its P & W R-1830 radials surviving for a long time. Still, frankly, it will become less probable to sustain a commercial operation with this aircraft for another quarter of a century.
When it comes to surviving in a commercial role, you have to bring in the more advanced/ state-of-the-art aviation/ aero-engine technology. Simultaneously, the airframe remains intact, be it with a stretched fuselage for more payload.
For clarifying the rationale behind this, let it be said that the business-based operation of a DC-3 is a world apart from that of the C-47 in airshow operations.
While the authentic DC-3 with its radial engines always will prevail as being the absolute WWII 'Icon of Victory' in Museums and on airshows/ meetings, the competitive world of aerial transport knows quite different laws in which arguments like " I like the original C-47/ Dakota/DC-3 better" are not adding much to its commercial value.
But yes, the argument surely adds sentimental value that counts big time for the aficionados (myself included) visiting those airshows and museums. But those privately/museum-owned DC-3s make a far lower number of flight hours, with less payload, and speed is no issue for those planes.
They are definitely not in the same demanding Commercial League where speed, payload, and operational costs are major factors to win an air-transport contract.
Brian, his brother Mark and nephews Colby and Austin are having strong confidence in developing this market of reconditioned/upgraded vintage aircraft as their Preferred Turbine-3 for commercial operations in the more remote regions where primitive conditions prevail.
In such circumstances, the 'Old School' design-features of the DC-3, like its big balloon tires and the taildragger configuration plus its low approach-speed, come to great avail. The non-asphalted airstrips, muddy jungle roads, and the Arctic's harsh tundra tracks are mostly found in places where graders are not available to level the landing ground.
This creates a serious threat for modern aircraft with their high landing speeds and small (front-)wheels, that cannot handle serious bumps, pits, and potholes, often mud- or water-soaked and not very visible.
But the DC-3's has the Big Wheels with soft Balloon tires. They keep on turning, in mud, sand, on beaches, riverbanks, or knobbly trails/moguls, where smaller wheels at high speed get stuck, collapse or run a flat tire.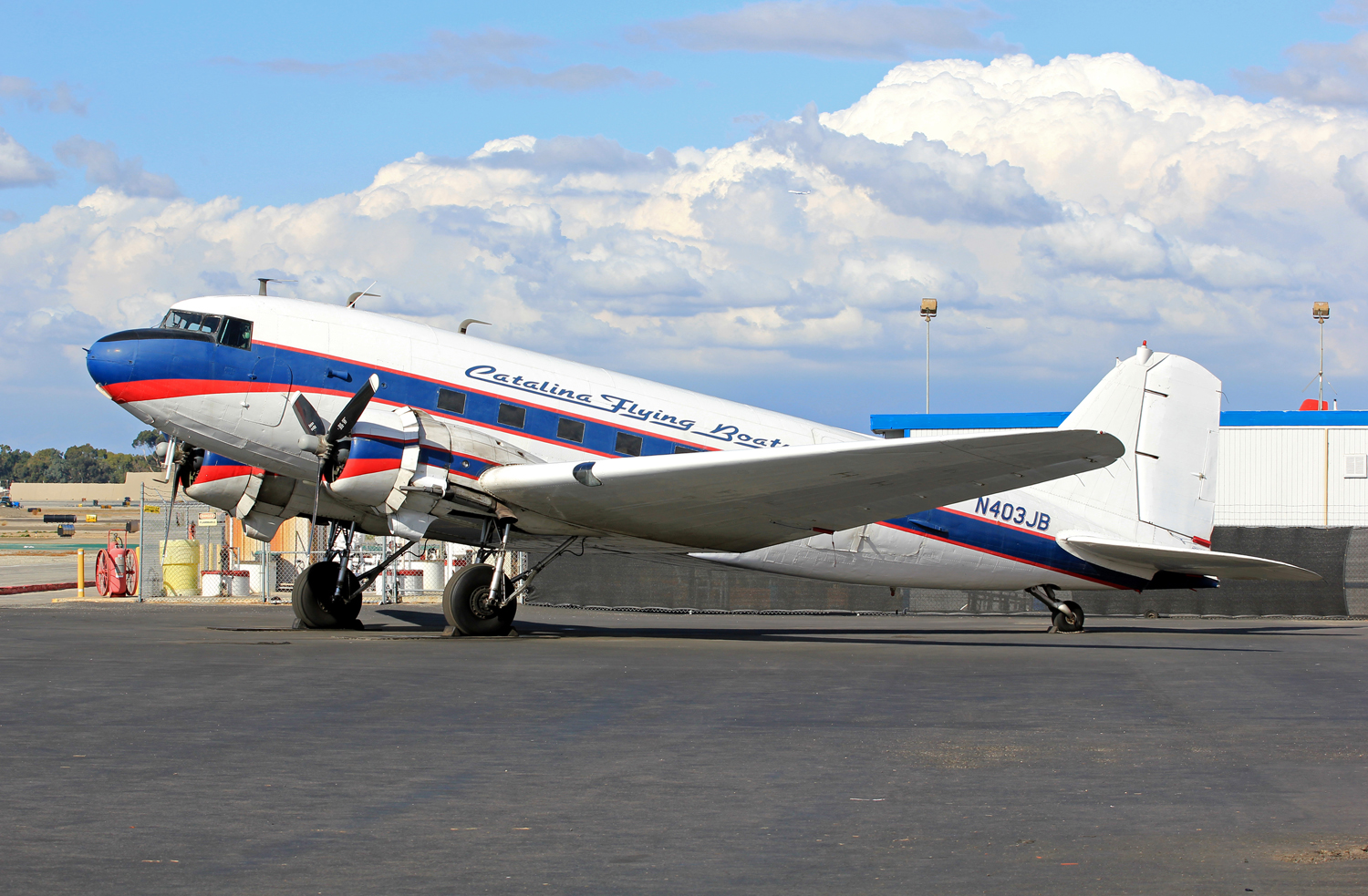 The photo nr. 5: Preferred AirParts from Kidron, OH has collected old DC-3/C-47
airframes
from
al
l
over the mainland USA and Alaska that came in flying or by ship/ road transport.
Also, from South Africa came the old "Dodson" Stock, and SAAF airframes from Wonderboom Airfield, Pretoria (photo courtesy Michael Prophet).
There is an ex-KLM DC-3 N3BA, and also two ex-'Catalina Flying Boats Air Freight Service' DC-3 airframes from San Diego, CA. The last one, N403JB was flown in on June 2017. It was still standing on the platform during my visit with original engines, waiting for conversion but forever ending the commercial flights with the old DC-3s on the US Mainland Westcoast.
They were replaced by the Cessna 208B Caravan (the Super Cargo Master), a high-wing monoplane, with max 13 passengers or 1,5-2 tons of payload, cruising at 200 knots.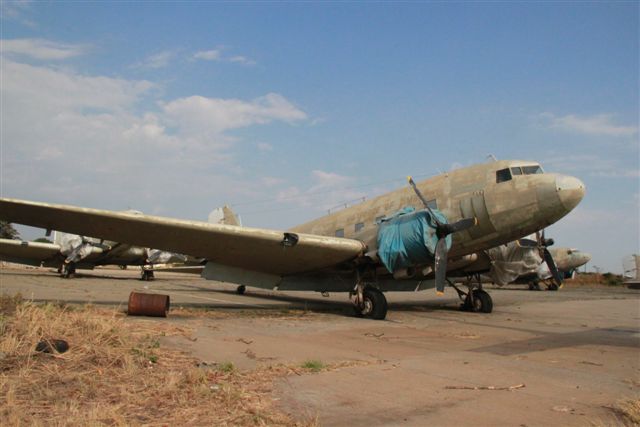 Photo nr. 6: Latest information from Brian is that he also acquired the five C-47s in Zimbabwe from their Air Force and bought all of their spare parts and engines. The airframes were transferred by road to Wonderboom Airport near Johannesburg in July/August 2017.
Some years earlier, I saw the "Zim-Daks" coming for sale via an auction agency, based in South Africa. I was interested in parts, but the auction never took place. At least, it seems that they are now saved from the scrapper!
However, with five DC-3s that came for sale in Madagascar, it all went completely awry. For a long time, I negotiated with the Military out there.
All in vain, one day, I got a telephone call that all Dakotas were being scrapped and sold as aluminum ingots for the local production of domestic devices as pots and pans!
(For more details and photos of that horrible mishap in Madagascar, see my book The Dakota Hunter, chapter 7, 'Dancing with Colonels').
Here follow the ZIM DAK C/ N numbers, all info via Brian and Michael Prophet, my good friend and DC-3 Photographer:
Air Force of Zimbabwe 5 x C-47s:  reg nr. 3700-C/N 13164, reg nr 7036-C/N 14494/25939, reg. nr  7053- C/N 16011/32759, reg nr 7301- C/N 16335/33083, reg nr. 7303-C/N 13867/25312.
** Max. Payload goes from 3,5 to 5 tons (45 % increase). That is made possible by adding more cargo stowing space on a stretched fuselage and cabin floor.
** Internal loading space makes a 35 % increase, mainly due to that stretching of the fuselage with some 40 inches, right behind the cockpit,
** Max Takeoff weight goes up from 25,200 to 29,000 lbs, with a new lightweight reinforced floor to carry all that extra weight.
** Engine Overhauls (TBO) are needed only after every 6,000 flight hours, compared to 1,200 flight hours for the radial P & W R-1830s. That makes a substantial gain in operational costs and less time lost in maintenance hours.
** Cruising speed makes a major step forward, to some 200 knots, more in the range of its competitor Cessna Caravan.
Read what Brian wrote to me:
"The main difference in speed is due to the shape of the cowling. The new cowling greatly reduces drag; our cowling is lighter and easier to remove for service. The sideward-directed dual-shaped exhaust stacks that we use also help keep the exhaust soot off the airplane. Very little soot collects on the airplane.
The radial engines weighed about 1,700 lbs each. The new Turbo engine Pratt & Whitney Canada PT6s weight is about 650 lbs each, some 60% less. We also eliminate the oil tank from the radial engines that carried 29 gallons of oil and replaced it with additional 116-gallon fuel tanks in front of the original firewalls.
It brings the total fuel capacity to 1032 gallons. The new 5-blade propellers are also much lighter than the old Hamilton Standard props and are fully reversible, allowing for better performance during takeoffs and landings on shorter tracks".
PM
Early 2018, I visited the Hangars of 'Preferred AirParts' in a cold NE Ohio.      I met the co-owner Brian Stoltzfus who showed me around in his 'Phoenix Factory" where they resurrect old DC-3/C-47 airframes to a better-than-new state with Turbo-Prop engines and modern cockpit interiors for the commercial cargo market.
I was impressed, by the intricate works they did on the aircraft with total re-skinning of wings, parts of the fuselage and all-new avionics.
Brian surprised me with his modest but very dedicated attitude to make this 'Longevity Winner' Aircraft even better. He was the one who told me the DC-3 in this shape will make it as the first aerial transport in the World to stretch her operational life beyond the year 2044. I.e the year where the aircraft will become 100 years of age. And still making revenues for the owner!
But on 21 January 2019, Brian died in an aircraft accident. With his beloved DC-3 Turbo, he crashed shortly after take-off from his private airstrip in Kidron, OH.
After my visit, he helped me writing this chapter in February 2018.
A memorable visit to a most remarkable man, may this chapter bring a tribute to him.
In memoriam of Brian, RIP
=========================END=====================================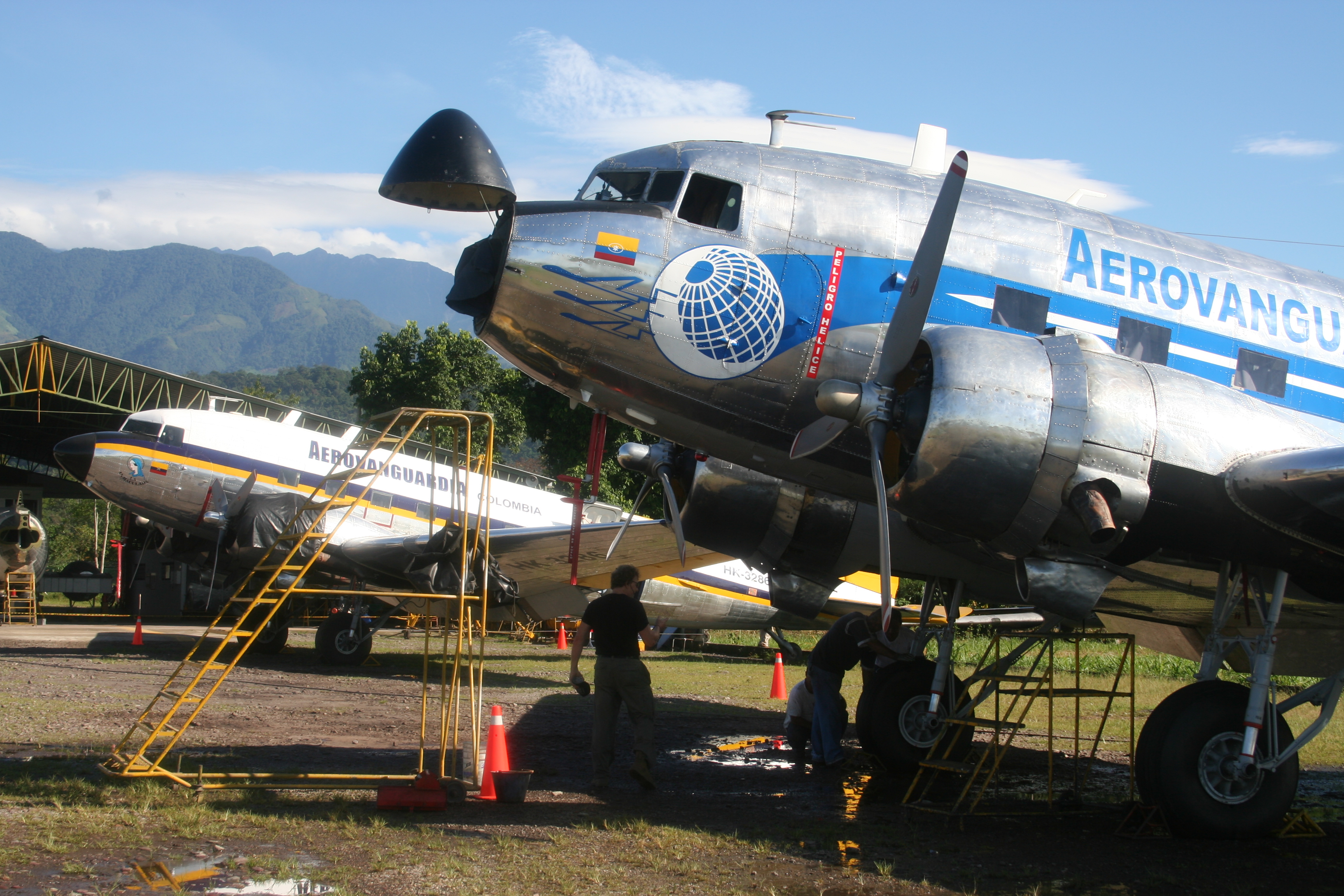 Photo
above was taken during one of my visits to the Capital of DC-3, Villavicencio in Colombia, the gate to the Amazon with a fleet of 10-12 Dakotas, divided over 5 companies. This was, is and will remain for a long time the realm of the old radial prop DC-3. Rather primitive conditions in the Jungle outback posts, cheap labor costs, good infrastructure for the vintage Dakota, with skilled skinners, lots of mechanics and a reputed workshop for radial engine overhauls. The first DC-3 TurboProp has also made its entry here now with Aliansa.
Finally, the gain in speed and payload brings the Turbo-modified C-47 like the Preferred Turbine-3, back in the sphere of a commercially purposeful proposition, in a time where the good old DC-3/ C-47 with radial engines is losing ground in its proficiency to generate revenues.
According to Michael Prophet,  US DC-3 freighter operations survived in only two US states: their number is down to only 10 operational piston cargo DC-3s in the US (and 4 in Canada). In Florida (Atlantic Air Cargo & Florida Air Cargo) and in Alaska (TransNorthern Air, Deserts Air, Bush Air)
Michael believes the piston cargo DC-3 is fast becoming an endangered species: TMF Aircraft Inc (Florida) went out of business 2 years ago and
'Catalina Flying Boats Inc' sold their last cargo DC-3 to Preferred Air Parts.
From the Commercial Dept.
If you like my stories about war history and vintage aircraft, may I recommend you my book The DakotaHunter?
It is a 320-pages book, jampacked with 240 unique photos and stunning stories, experienced during the past 25 years in over 20 expeditions that I made in search of the legendary DC-3 on the last frontiers. I encountered harrowing and sometimes hilarious situations with the military, war/drug lords and other heroes and villains that tried to sell me abandoned or crashed Dakotas which were never their property but in the jungle, such titles are only futilities.
Come to my Amazon order page, scroll down to the end and read the 20+ reviews of my book. You will be stunned to see this, comments like 'Best book that I have ever read" and that is no BS. Scroll back on that page and make your order, the best book you can buy for your Dad, your Friend or yourself.  Click here for my book 
Amazon Order page The Dakota Hunter
 ============================================================================================================
STOP PRESS. Check
 my newest book
'
80 Years, a tribute to the PBY Catalina
'. With almost 300 pages and 400+ photos, this luxury Lounge Table photo album covers the full 80-years career of the best Flying Boat ever made. With many photos never published before, full-page large-format spreads of the Catalina/ Canso during the war and in its post-war role as a transport and fire-fighter, the book  is MUST HAVE / Collector's Item for all vintage Aviation Buffs. But also for those who like "romancing the era of the flying boats" that brought travelers to idyllic faraway Islands in the Pacific, the Caribbean, Canada, and Alaska.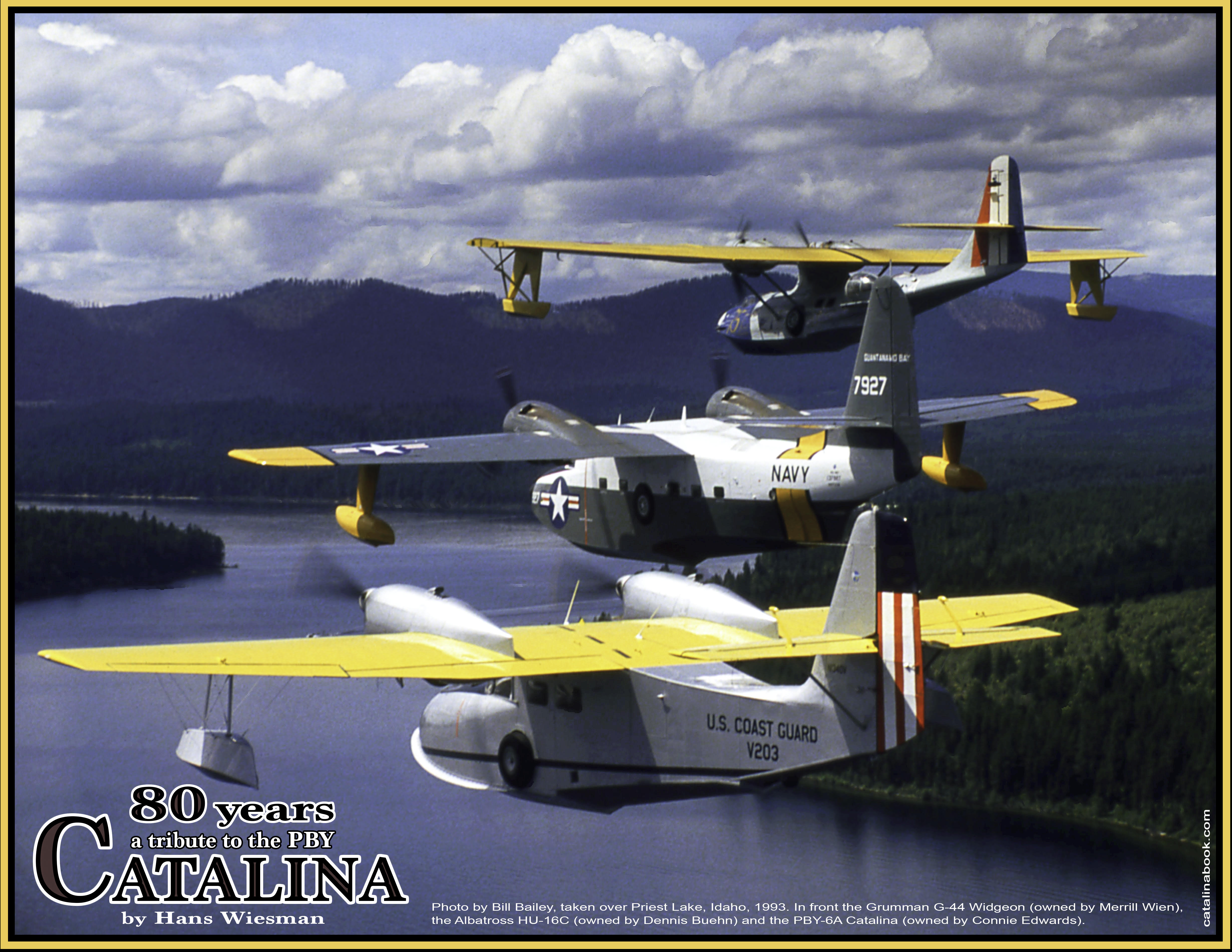 Hans Wiesman
www.dc3dakotahunter.com