Santa's Sleigh Flight Manual is finally found back in a time-frozen Arctic lake!
Have you heard of the tunnel locked Gold Train in Poland or the buried Spitfires in Burma? All bogus stories, but here is one find that is well documented! Santa's Flight Manual got lost during the Cold War (early 1950's) in an incident near North Pole, Alaska. In an early morning test flight of his Sleigh, four of the eight engines failed during take-off. An emergency landing on a frozen lake was unavoidable. Luckily, Santa and his reindeer escaped unscathed. But the one-off Flight Manual went overboard in that hard landing and was never seen again.
But recently, it has been found back with deep ice penetrating Infra Red scans and GPS guided X-Ray guns. While operating in the same area for the salvaging of a lost Douglas DC-3, I was allowed to participate in the historical mission of the Salvage crew.  Proud to publish the book now for the first time in over 60 years with HIS special permission. Read this Manual with care, it can be helpful when Santa flies over your hometown and runs out of gas or is facing a mechanical problem with his vintage sleigh. There are few FAA-licenced mechanics left who can work on this one-of-a-kind aero sleigh with its special propulsion system. The book below provides very useful clues and advice what to do and also what not to do when Santa is in deep snow/ s..t!
Example: Page 8: Engaging the Sleigh in a Dive is forbidden under all circumstances. Exceeding the manoeuvring speed with the Cargo Load can have direct consequences on cargo wrapping and conditions, CHILDREN EXPECT TO HEAR REINDEER'S BELLS, NOT A STUKA DIVING HORN! 
Enjoy the reading of the next 13 pages under the tree, very amusing content indeed.  May I wish you, your family and friends a MERRY CHRISTMAS.
Hans Wiesman/ The Dakota Hunter    www.dc3dakotahunter.com/ www.facebook.com/hans.wiesman. Thanks to [email protected] for his help.
My book The Dakota Hunter ( Casemate Publishers USA/ UK) is a fully illustrated new release with 250 photos and 320 pages, engagingly written with tales of my 20+ years of expeditions in search of the Legendary DC -3 at the last frontiers of this world. Alaska, The Yukon, Bolivia, Madagascar, Venezuela, Colombia and many more remote places where I found that Dakota/ C-47. Crashed, abandoned or still flying, always with a fascinating history and often surrounded by colorful characters as Military Colonels, Drugs and War Lords, who mostly considered me as the "Million Dollar Baby". They adapted the price for their uninvited help accordingly and the salvaging of the aircraft/parts was often seriously hampered by their engagement. But there is a lot more in the book, about the wartime History of this Iconic Aircraft. Come to my website  dc3dakotahunter.com where you can read my blogs, and take a sneak preview in 8 pages of the book.
You can also order my book directly at Amazon and have a view of their Customer Reviews, Click here Order directly and see Amazon's Customer reviews
A signed version of the book can be ordered on my website. Interested in a genuine piece of recovered C-47 fuselage skin, built in 1944?  See below for a unique offer that will follow early next year. Stay tuned, Friend of Follow me at  www.facebook.com/hans.wiesman.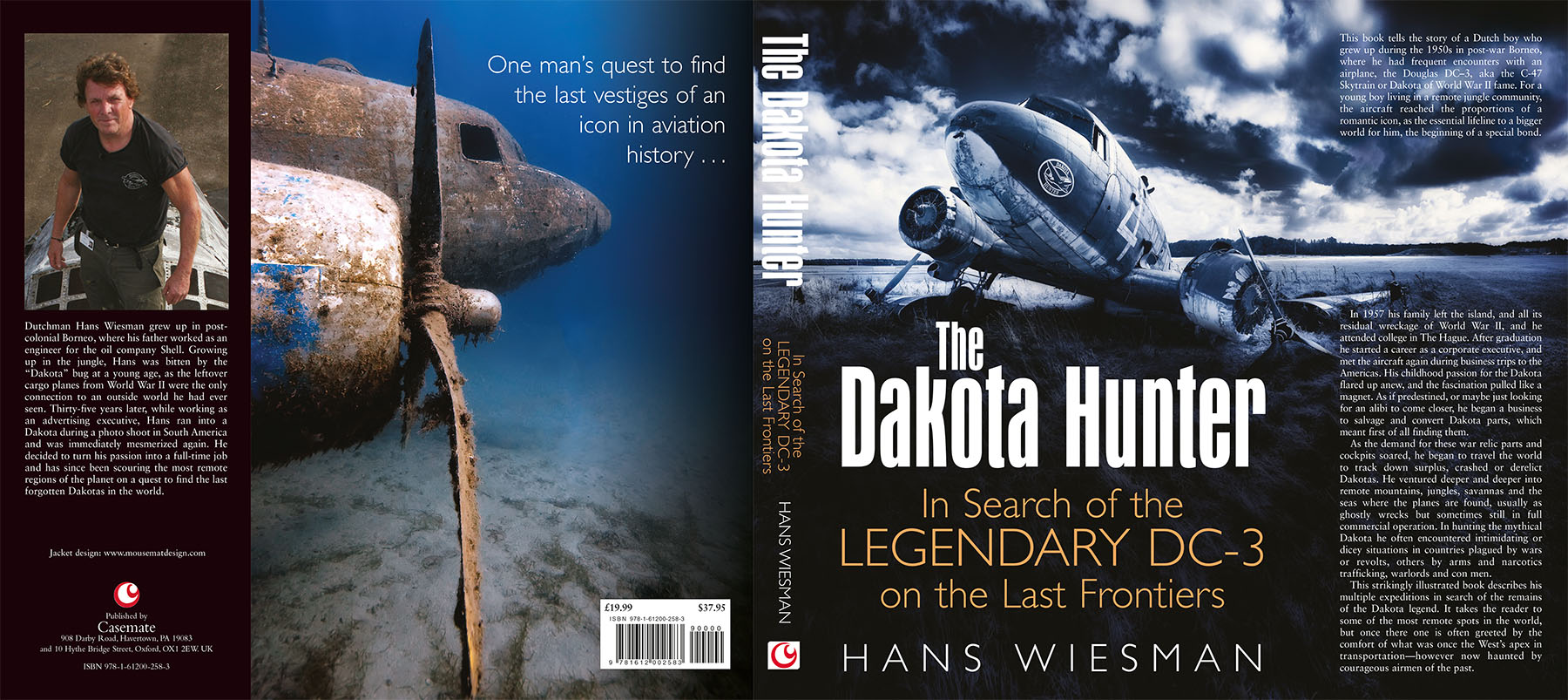 Photo below depicts the Commemorative Plaque of the DC-3 80 years Maiden Flight, that took place 17 Dec. 1935. This Limited Series WW II made panel is recovered from a  C-47 fuselage  (dimensions 11 x 14 in/ 28 x 36 cm). It is screened with the Logo as depicted and comes with the photo of the donor C-47 (see in the upper side of the frame, same dimensions as the skin plaque). Soon, both photo & plaque (incl. Certificate of Authenticity) will come for sale via my website.
Are you interested to receive the free online Brochure for this Plaque? Please fill in your email address below, push the send button and I'll come back to you soonest with news, photos and prices.
[contact-form-7 id="3528″ title="Leave email"]
Enjoy, The Dakota Hunter/ Hans Wiesman.